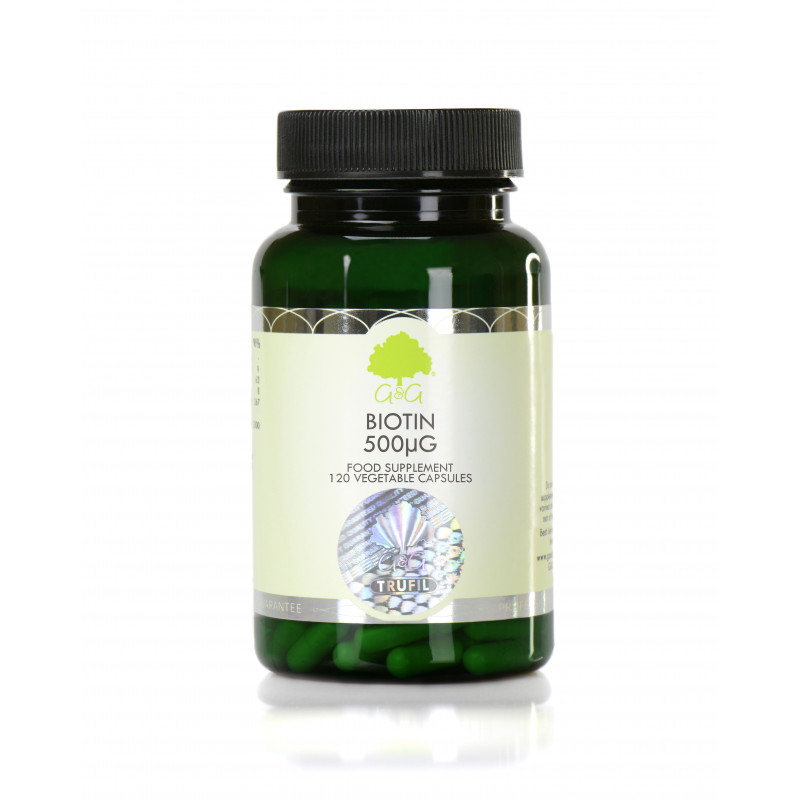  
Biotin 500µg - 120 Capsules
SKU: GA623
120 day supply
High strength
Hair, skin, nervous system, macronutrient metabolism and psychological function
Description
Supplemental Facts
| Ingredients | Per Serving |
| --- | --- |
| Biotin | 500 μg |
| Additional ingredients: |   |
| Alfalfa | 5 mg |
| Rice flour | 490 mg |
| Vegetable cellulose (capsule) | 100 mg |
Directions: Take 1 capsule daily with a meal or as directed by a professional.
Suitable for vegetarians and vegans, a
pproved kosher
Biotin supplement provides 500mcg of high-quality pure biotin. Biotin is a water-soluble vitamin, which is sometimes referred to as vitamin B7, B8 or H. Biotin, like all other B vitamins, cannot be stored by the body. It must therefore be a standard part of the diet in order to avoid a deficiency.
Biotin contributes to normal:
Maintenance of hair & skin
Energy-yielding metabolism
Functioning of the nervous system
Macronutrient metabolism
Psychological function
Maintenance of mucous membranes
Biotin supplement comes in the form of a vegetable cellulose capsule. This enables us to offer a supplement that does not require any unnecessary chemicals, excipients, binders or unnatural fillers. A vegetable cellulose capsule is designed specifically to break down naturally within the acid of your stomach, ensuring that the nutrients are absorbed during digestion.
WARNING!
Do not exceed stated recommended dose.
A food supplement should not be used as a substitute for a varied and balanced diet & healthy lifestyle.
Store in a cool dry place, out of the reach and sight of young children.
CONTAINS NO: GMO, gluten, wheat, lactose, added sugar, artificial preservatives or colourings