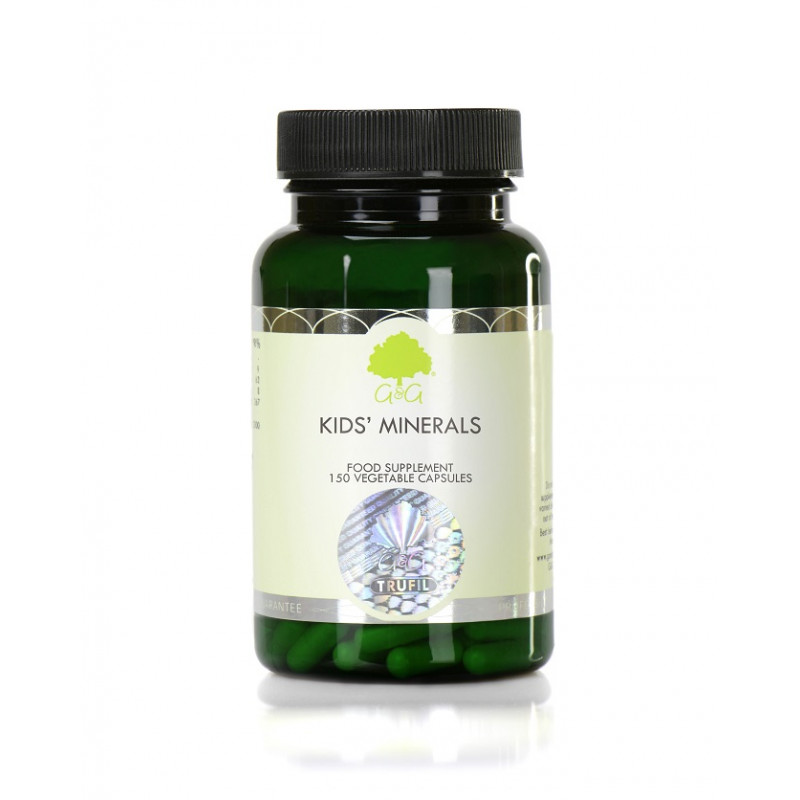  
Kids Minerals - 150 Capsules
SKU: GA072
5 month's supply (4-6 year old)
Suitable for vegetarians and vegans
Description
Supplemental Facts
Ingredients for 1 capsule:
 Per Serving
RI%
Capsule shell: vegetable capsule
40 mg
 
Calcium (citrate)
20 mg
 
Magnesium (citrate)
8 mg
 
Iron (bisglycinate)
(iron, citric acid, maltodextrin, silica)
2 mg
 
Selenium (methionine)
25 μg
45.5%
Zinc (citrate)
2 mg
20%
Manganese (gluconate)
500 μg
 
Potassium (gluconate)
500 μg
 
Copper (bisglycinate)
(copper bisglycinate, maltodextrin, citric acid, silica)
50 μg
 
Chromium (picolinate)
25 μg
62.5%
Boron (as sodium borate)
10 μg
 
Molybdenum (ammonium molybdate)
30 μg
60%
Iodine (potasium iodine)
15 μg
 
Directions: Take with a meal:
Ages 4-6 take 2 capsules perday
Ages 6+ take 3 capules per day or as directed by a healthcare professional.
Not for children under 4 years. Parental supervision is advised.
Kids Minerals
is a unique blend of minerals specifically designed for children. Most of the minerals within this supplement are chelated, which makes it easier for the body to absorb the nutrients.
Chelated minerals are minerals that have been combined with amino acids to form a complex that is more easily digested and assimilated by the body. The use of chelated minerals in Kids Minerals allows the body to get the highest quality of nutrient minerals in every capsule.
Kids Minerals uses specially designed child sized capsules, ideal for children. If your little ones don't like capsules, then no need to worry. Our capsules can be easily opened and the contents can be added to a meal or drink, thus making sure your child gets all their vital vitamins and minerals.
Kids Minerals is suitable for vegetarians and vegans. It is also approved kosher and does not contain any major allergens.
WARNING!
Do not exceed stated recommended dose.

A food supplement should not be used as a substitute for a varied and balanced diet & healthy lifestyle.

Store in a cool dry place, out of the reach and sight of young children.