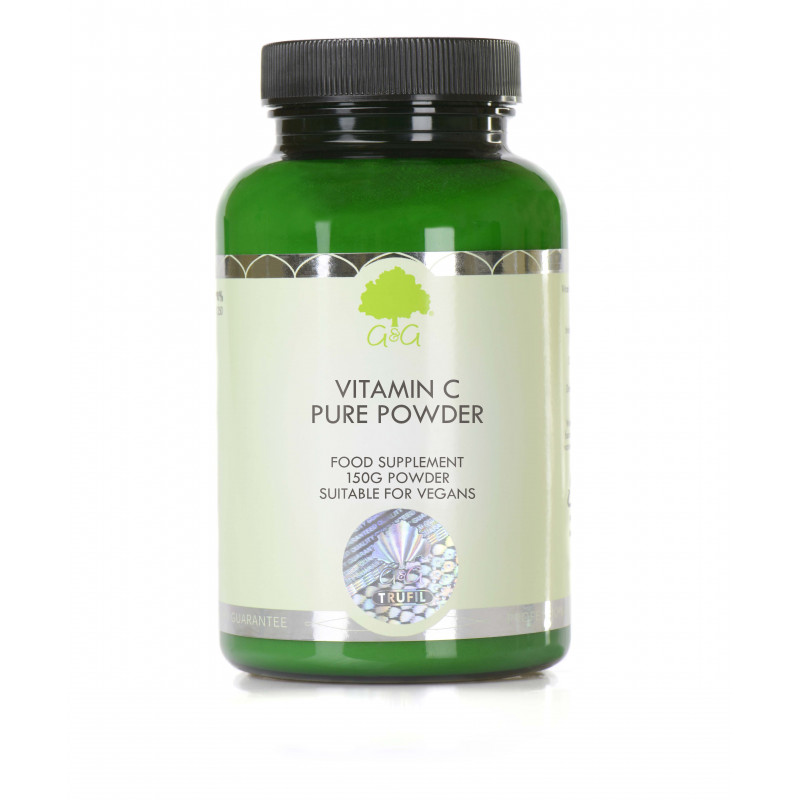  
Ascorbic Acid (Pure C) 150 g
SKU: GA448
Ascorbic Acid (Pure Vitamin C) in 250 g powder format. Vitamin C is necessary for the normal structure and function the body.
Description
Supplemental Facts
1/5 teaspoon will provide (1g):
| Ingredients | Per Serving |
| --- | --- |
| Vitamin C (ascorbic acid) | 1000 mg |
 Directions: Add 1/5 teaspoon of the powder to a glass of fruit juice or water. Stir and drink.
Vitamin C Ascorbic Acid is an important every day essential in building up the body's defences. Vitamin C also known as, ascorbic acid, L-ascorbic acid, dehydroascorbic acid, the antiscorbutic vitamin, L-xyloascorbic acid and L-threo-hex-2-uronic acidy-lactone.
The human body is unable to produce it's own source of Vitamin C and therefore it is essential to take a vitamin C supplement. 1 teaspoon of Pure Ascorbic Acid powder is the equivalent to approx 5 g.
WHAT DOES VITAMIN C DO?
Vitamin C contributes to maintain the normal function of the immune system during and after intense physical exercise
Vitamin C contributes to normal collagen formation for the normal function of blood vessels, cartilage, bones, gums, skin and teeth
Vitamin C contributes to normal energy-yielding metabolism
Vitamin C contributes to normal functioning of the nervous system
Vitamin C contributes to normal psychological function
Vitamin C contributes to the normal function of the immune system
Vitamin C contributes to the protection of cells from oxidative stress
Vitamin C contributes to the reduction of tiredness and fatigue
Vitamin C contributes to the regeneration of the reduced form of vitamin E
Vitamin C increases iron absorption
CONTAINS NO: gluten, wheat, lactose, added sugar, preservatives or artificial colours
Suitable for vegetarians and vegans
Approved kosher