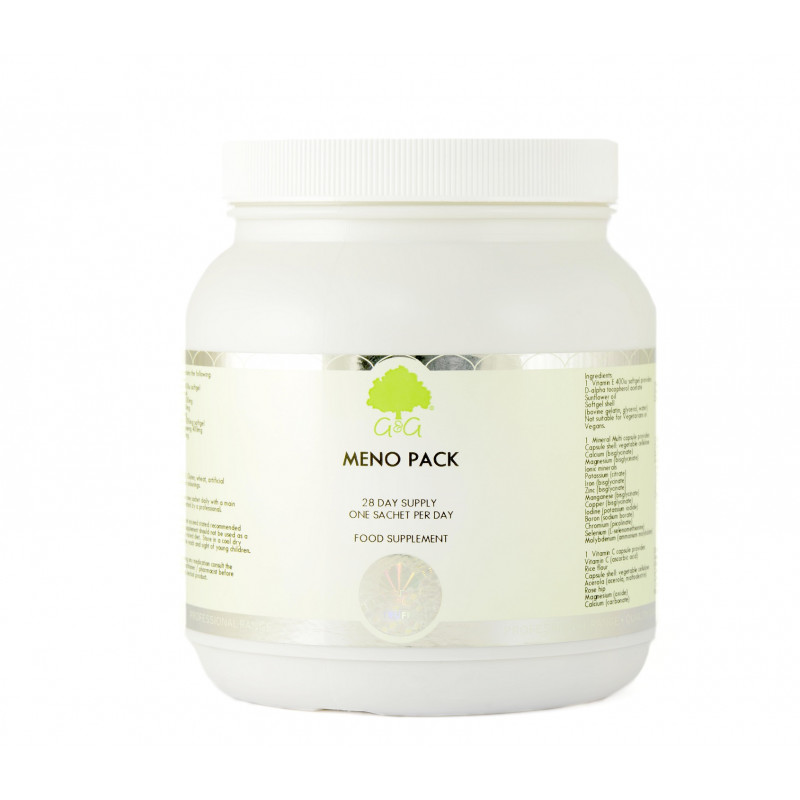  
Meno Pack
SKU: GA983
The Meno Pack is designed specifically to supplement a woman's diet during the menopause. We've found every supplement that may help during menopause. We've packaged these health supplements in one 28 day pack to ease the daily process of supplement intake.
Description
Supplemental Facts
28 packages every day. Each package contains:
| Ingredients | Per Serving |
| --- | --- |
| Meno-Time | 2 |
| Vitamin E (softgel) 400iu | 1 |
| Mineral Multi | 1 |
| Vitamin C Complex 500mg | 1 |
| CoQ10 | 1 |
| Kelp 500mg | 1 |
| Flaxseed 1000mg (softgel) | 1 |
| Siberian ginseng 400mg | 1 |
| Cal-M 250mg | 1 |
 Directions: Take one sachet daily with a main meal, or as directed by a professional.
INGREDIENTS
1x Vitamin E 400iu Softgel provides: D-alpha tocopherol acetate 294mg Sunflower oil 106mg Softgel shell 220mg (bovine, gelatin, glycerol, water) Not suitable for vegetarians or vegans

1x Mineral Multi capsule provides: Capsule shell: vegetable cellulose 120mg Calcium (bisglycinate)71.4mg Magnesium (bisglycinate) 35.7mg Ionic minerals 14.3mg (sourced naturally from the Great Salt Lake) Potassium (citrate) 6.4mg Iron (bisglycinate) 2.6mg Zinc (bisglycinate) 2.1mg Manganese (bisglycinate) 571ug Copper (bisglycinate) 286ug Iodine (potassium iodine) 32ug Boron (sodium borate) 14ug Chromium (picolinate) 11ug Selenium (methionine) 11ug (dicalcium phosphate, L-selenomethionine) Molybdenum (ammonium molybdate) 7ug

1x Vitamin C capsule provides: Vitamin C (ascorbic acid) 500mg Rice flour 148mg Capsule shell: vegetable cellulose 100mg Acerola 5mg (maltodextrin, acerola) Rose hip 5mg Magnesium (oxide) 1.5mg Calcium (carbonate) 986ug

1x CoQ10 capsule provides: Rice flour 400mg Capsule shell: vegetable cellulose 100mg CoQ10 100mg 2x Meno-Time capsule provides: Desert date ( Balanites aegyptiaca ) 400mg extract providing 5mg of diosgenin (maltodextrin) Capsule shell: vegetable cellulose 200mg Hops ( Humulus lupus ) extract (4:1) 160mg (maltodextrin) Kelp ( Ascophyllum nodosum ) 80mg (providing 56ug of iodine) Vitamin E natural (50iu) 67.2mg (D-alpha tocopheryl succinate) CoQ10 60mg Evening primrose oil powder 60mg L-arginine 60mg Pfaffia ( Pfaffia paniculata ) root 60mg Korean (panax) ginseng extract (4:1) 40mg (maltodextrin) Vitamin B5 (D-calcium pantothenate) 20mg Aloe vera (200x concentrate) 6mg Vitamin B6 (pyridoxine HCl) 3.2mg Selenium (methionine) 100ug (dicalcium phosphate, L-selenomethionine)

1x Kelp capsule provides: Kelp (Ascophyllum nodosum) 500mg (providing 350ug of iodine) Capsule shell: vegetable cellulose 100mg

1x Cal-M capsules provide: Calcium gluconate, magnesium carbonate and dried cider vinegar, once mixed producing the mineral acetates.
EACH SACHET CONTAINS:
2x Meno-Time
Meno-Time is a health supplement designed for women in the menopausal stages of life.
1x Vitamin E (softgel) 400iu
Vitamin E is a well-known fat-soluble antioxidant. It comes in eight forms, some of which are synthetic, while others are naturally obtained. We use D-Alpha Tocopherol Succinate in our vitamin E supplement. This a natural form of vitamin E.
1x Mineral Multi
Mineral Multi provides a unique blend of 13 essential minerals within a single supplement capsule.
1x Vitamin C Complex 500mg
Vitamin C is a water-soluble vitamin and a potent antioxidant. The body cannot store vitamin C, therefore it must be a standard part of the diet to avoid deficiency.
1x CoQ10
Coenzyme Q₁₀, known commonly as CoQ10, is closely involved in the metabolic processes that converts glucose into the energy that drives every process in the body. This is why it is so abundant in muscle tissue with the heart muscle having the highest concentration of CoQ10.
1x Kelp 500mg
Kelp has long been known as a rich source of iodine. Our organic kelp supplement is made from pure kelp, sourced from the Outer Hebrides. This means that it is one of the few seaweed to be certified free of ocean borne contaminants, toxic metals and microbial pathogens.
1x Flaxseed 1000mg (softgel)
Flaxseed Oil comes from the seeds of the flax plant and has been a well-established source of essential fatty acids for many centuries. It is an especially rich source of the omega-3, alpha-linolenic acid (ALA), which is in short supply in most other seed oils. In years gone by flaxseed was an ingredient used in the production of cereals and breads but is now very rarely used.
1x Siberian ginseng 400mg
A pure ginseng supplement
1x Cal-M 250mg
Cal-M is a powdered blend of calcium, magnesium and organic cider vinegar, designed to deliver these important minerals as acetates, making them more readily absorbed by the body.