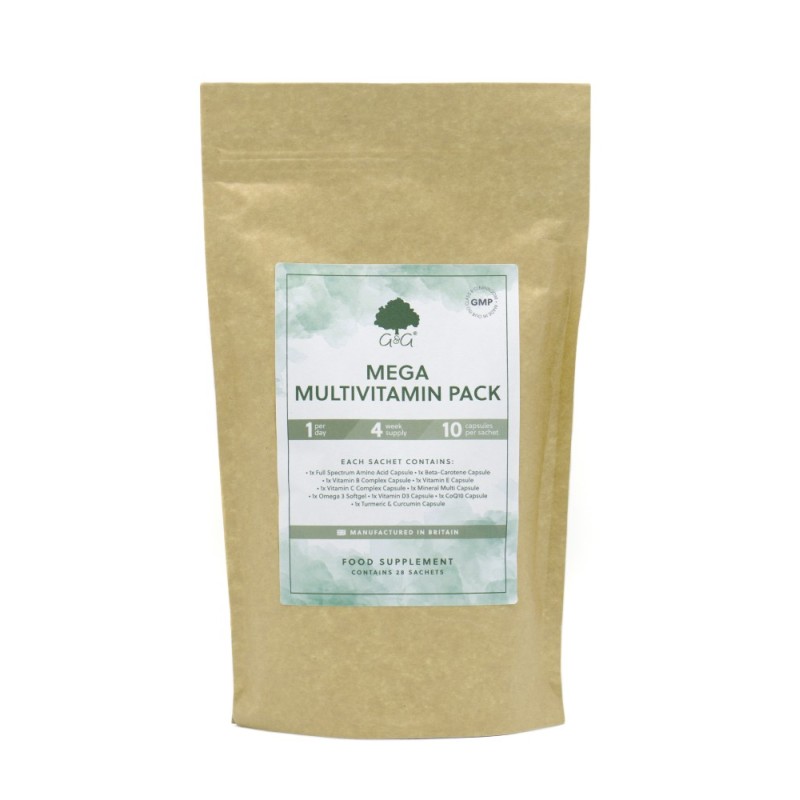  
Mega Multivitamin Pack
SKU: GA122
Description
Supplemental Facts
1 Amino Acid capsule provides:
| | |
| --- | --- |
| Ingredients | Per Serving |
| L-lysine | 75 mg |
| L-glutamic acid | 75 mg |
| L-glutamine | 75 mg |
| L-arginine | 69 mg |
| L-leucine | 60 mg |
| L-methionine | 46 mg |
| Glycine | 44 mg |
| L-phenylalanine | 36 mg |
| L-serine | 36 mg |
| L-isoleucine | 30 mg |
| L-threonine | 30 mg |
| L-tyrosine | 30 mg |
| L-valine | 30 mg |
| L-cysteine | 23.7 mg |
| L-histidine | 20 mg |
| L-alanine | 18 mg |
| L-aspartic acid | 15.3 mg |
| L-proline | 15 mg |
| L-taurine | 12 mg |
| L-tryptophan | 10 mg |
| Capsule shell: vegetable cellulose | 120 mg |
Directions: Take one sachet daily with a main meal, or as directed by a professional.
The Mega Multivitamin Pack provides a 28 day supply of health supplements that include vitamin A, B, C, D and E. While there are many multivitamin supplements on the market, they can compromise your nutritional intake by trying to formulate a blend that is too complicated to provide effective levels of certain vitamins.
1 Beta-carotene capsule provides:
Rice flour
280mg
Capsule shell: vegetable cellulose
100mg
Beta-carotene (natural) 8325iu
(Dunaliella salina algae)
(gum arabic, maltodextrin, corn oil,
natural mixed carotenoids, moisture,
antioxidants (ascorbic acid, tocopherols,
citric acid))
15mg
WHAT DO YOU GET IN OUR MEGA MULTIVITAMIN PACK?
Each sachet contains the following supplements:

1x Full Spectrum Amino Acid Complex Capsule
Amino acids are the building blocks of protein, used by the body to help build new tissue and aid muscle repair. There are 20 amino acids utilised by the human body, our Full Spectrum Amino Acid supplement provides all 20.

1x Natural Beta-Carotene 15mg Capsule
Our natural beta-carotene supplement is made with Dunaliella salina, a type of micro-algae found in sea salt fields. To survive the salty conditions this micro-algae has high concentrations of beta-carotene to protect against the intense light. We harness the nutrition from the algae within a vegetarian capsule to create a natural healthy supplement that assists in the formation of vitamin A by the human body.

1x Vitamin B Complex with Nicotinamide 50mg Capsule
The B vitamin group are water-soluble, which means the body cannot store them. Vitamins B1, B2, B3, B6 and B12 contribute to the reduction of tiredness, normal energy-yielding metabolism and the normal function of the nervous system.

1x Natural Vitamin E 400iu Capsule
Vitamin E is a well-known fat-soluble antioxidant. It comes in eight forms, some of which are synthetic, while others are naturally obtained. We use D-Alpha Tocopherol Succinate in our vitamin E supplement. This a natural form of vitamin E.

1x Vitamin C Complex 500mg Capsule
Vitamin C is a water-soluble vitamin and potent antioxidant. The body cannot store vitamin C, which means it must be a standard part of the diet in order to avoid deficiency. We use pure ascorbic acid within our vitamin C supplement capsules.

1x Mineral Multi Capsule
Mineral Multi provides a unique blend of 13 essential minerals within a single supplement capsule.

1x Omega 3 Fish Oil Softgel
The two key essential fatty acids in Omega 3 are EPA (eicosapentaenoic acid) and DHA (docosahexaenoic acid). Our Omega 3 Fish Oil softgels provide high-quality amounts of EPA and DHA. DHA contributes to the maintenance of normal brain function.

1x Vitamin D3 1000iu Capsule
Vitamin D is a fat-soluble nutrient produced naturally by the human body when exposed to the sun. Modern lifestyles have decreased the exposure we get to the sun, which has made it more important to monitor potential deficiency.

1x CoQ10 100mg Capsule
Coenzyme Q10, known commonly as CoQ10, is closely involved in the metabolic processes that converts glucose into the energy that drives every process in the body. This is why it is so abundant in muscle tissue with the heart muscle having the highest concentration of CoQ10. We use ubiquinone.
| | |
| --- | --- |
| 1 CoQ10 capsule provides: | |
| Rice flour | 400mg |
| Capsule shell: vegetable cellulose | 100mg |
| CoQ10 | 100mg |


1x Turmeric & Curcumin Capsule
Our Turmeric & Curcumin is a blend of turmeric and turmeric root extract which provides 95% curcuminoids.
WARNING!
Do not exceed stated recommended dose.
A food supplement should not be used as a substitute for a varied and balanced diet & healthy lifestyle.
Store in a cool dry place, out of the reach and sight of young children.