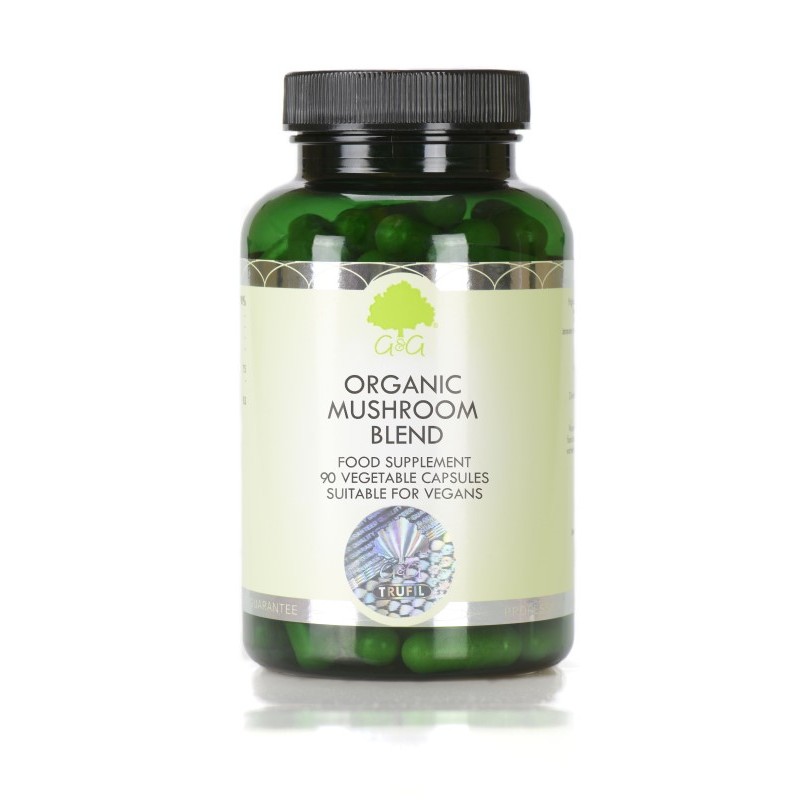  
Organic Mushroom Blend - 90 Capsules
SKU: GA080
45 day supply
High quality mushroom blend
100% Organic
Suitable for vegetarians and vegans
Description
Supplemental Facts
ingredients for 1 capsule
Ingredients
Per Serving
Vegetarian cellulose (HPMC*) capsule
(*Hydroxypropylmethyl cellulose)
120 mg
Organic maitake (Maitake)
115 mg
Organic reishi (Ganoderma lucidum)
115 mg
Organic shiitake (Lentinus edodes)
115 mg
Organic lion's mane (Hericium erinaceus)
115 mg
Organic chaga (Inonotus obliquus)
115 mg
Organic cordyceps (Cordyceps sinensis)
115 mg
Directions: Take 1 capsule twice daily, or as directed by a healthcare professional.
Organic Mushroom Blend is a high-quality blend of six different organic mushrooms. These include reishi, chaga, cordyceps, shiitake, lion's mane, and maitake.
Organic Mushroom Blend comes in a vegetarian cellulose capsule. This enables us to offer a supplement that is free from excipients, binders and coatings that are commonly found in tablet supplements. Our vegetarian cellulose capsules are designed specifically to break down naturally within the acid of your stomach, ensuring that your body absorbs the nutrients naturally during digestion.
 Organic Mushroom Blend supplement is suitable for vegans and vegetarians. It is also certified organic and approved kosher and does not contain any major allergens.
WARNING!
Do not exceed stated recommended does.
A food supplement should not be used as a substitute for a varied diet or health lifestyle.
Store in a cool dry place, out of the reach and sight of young children.