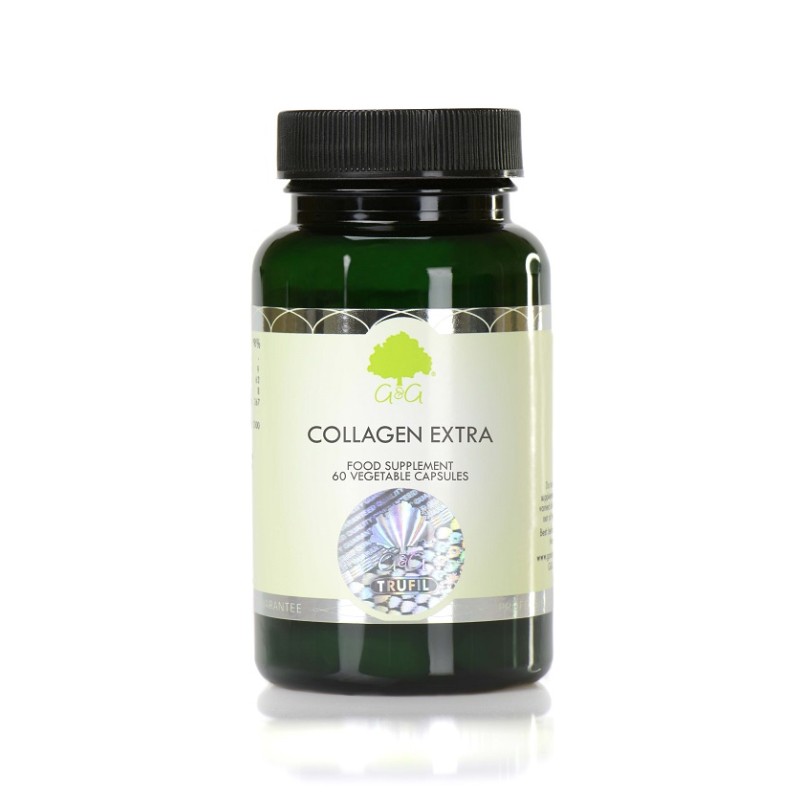  
Collagen Extra - 60 Capsules
SKU: GA704
2 month's supply (1-a-day)
Hydrolysed marine collagen
With glucosamine, MSM, Chondroitin & vitamin C
From tilapia fish
Description
Supplemental Facts
Serving Size: 1 capsule
Ingredients
Per Serving
Collagen hydrolised (FISH)
200 mg
Glucosamine sulphate 2KCl
(providing 148mg Glucosamine base)
250 mg
Methylsulphonylmethane (MSM)
150 mg
Chondroitin sulphate (FISH)
150 mg
Vitamin C (ascorbic acid)
100 mg
Capsule shell: vegetable cellulose
120 mg
Direction: Take 1-2 capsules daily, or as a directed by a healthcare professional.
Hydrolysed marine collagen supplement is a unique blend that is based on our collagen supplement. Collagen Extra provides all the same benefits with an addition mineral and vitamin boost. We've added glucosamine, chondroitin, vitamins C and MSM to create a balanced collagen complex.
WHAT DOES COLLAGEN EXTRA DO?
Vitamin C contributes to normal Collagen formation for the normal function of:
bones and cartilage
skin
blood vessels
gums
teeth
EXCIPIENT FREE
Our Collagen Extra supplement comes in the form of a vegetable cellulose capsule. This enables us to offer a supplement that does not require excipients, binders or unnatural fillers. A vegetable cellulose capsule is designed specifically to break down naturally within the acid of your stomach, ensuring that the nutrients are absorbed during digestion.
Collagen capsules can:
Boost the body's own Collagen synthesis.
Smooth out wrinkles in the skin.
Replace lost elasticity.
Improve Hair, Nails and Teeth.
Aid in the repair and regeneration of Ligaments, Tendons, Joints and Bones.
Reduce the body's storage of fat when taken over time.
Increase healing time and cell regeneration.
When the body needs to build any new cellular structure, as in the healing process for example, Collagen and/or Collagen fragments play a central role. Although the role of Collagen as scaffolding has been known for some time, we now know that Collagen controls cell shape and differentiation, migration, and the synthesis of a number of Proteins. This is why broken Bones regenerate and wounds heal, and why blood vessels grow to feed healing areas. The Collagen mesh provides the blueprint, the road map and the way.
100% Pure Collagen is safe and has no known side effects.