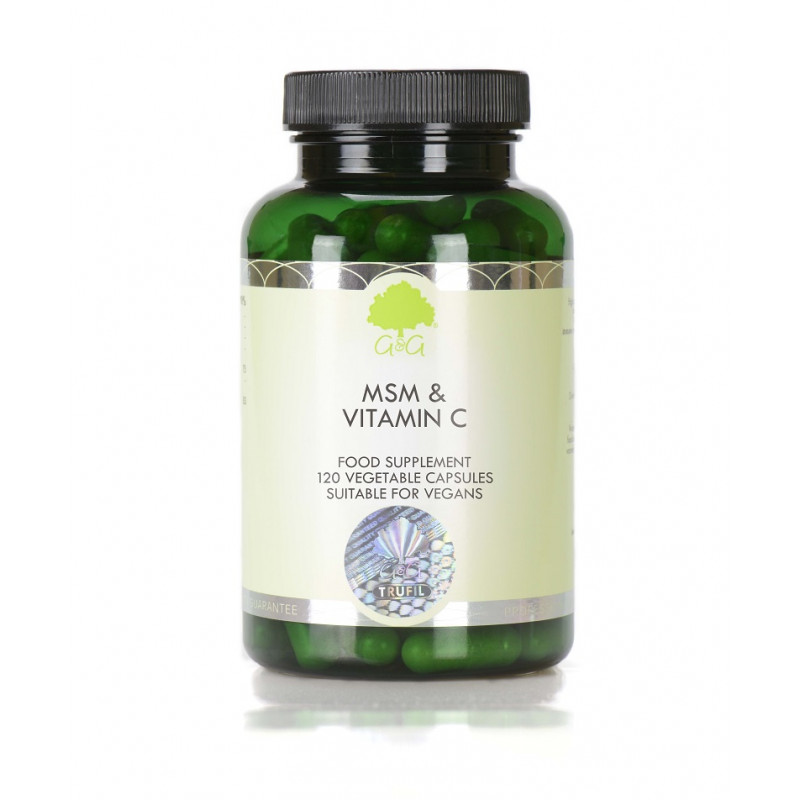  
MSM with Vitamin C - 120 Capsules
SKU: GA854
MSM enables your cells and tissues to release toxins that have built up over the years. Sulphur is a vital part of the body's waste management system
Description
Supplemental Facts
Serving Size: 1 capsule
| Ingredients | Per Serving |
| --- | --- |
| MSM (Methylsulfonylmethane)  | 500 mg |
| Vitamin C (Calcium Ascorbate) | 100 mg |
| Capsule Shell: Vegetable Cellulose | 100 mg |
Directions: Take 2 to 4 capsules daily or as directed by a professional.
Methyl-Sulfonyl-Methane (MSM) is a naturally occuring sulphur compound found in every plant and animal tissue. It is the only bioavailable form of sulphur - a macro mineral that is used in significant amounts in the body. MSM is an organic sulphur compound. It is contained naturally in the food or it should be, but often it disappears or is significantly reduced because of the over processing done. MSM enables your cells and tissues to release toxins that have built up over the years.
Sulphur is a vital part of the body's waste management system, and if we have not had enough of it our bodies are not able to release some of the waste substances. If you take too much MSM, your body will release too much waste at once for your kidneys and liver to cope with. This waste in your blood stream can cause all kinds of problems ranging from flu-like symptoms to re-experiencing the effects of drugs that you have taken in the past. For example, heavy caffiene users may feel extra-jittery. The key to reducing or eliminating detox symptoms is to start on MSM slowly so that the waste in your tissues is released slowly and to drink lots of water so that the released toxins will be flushed out of your body quickly. Mixed with Vitamin C you have the detox benefits of MSM and the Antioxidant properties of Vitamin C. Vitamin C as an Antioxidant helps the body to remove harmful free-radical in the cells.
Warnings:
Do not exceed stated recommended dose.
A food supplement should not be used as a substitute for a varied and balanced diet & healthy lifestyle.
Store in a cool dry place, out of the reach and sight of young children.
CONTAINS NO: gluten, wheat, lactose, added sugar, artificial colourings or preservatives
Suitable for vegetarians and vegans
Approved kosher