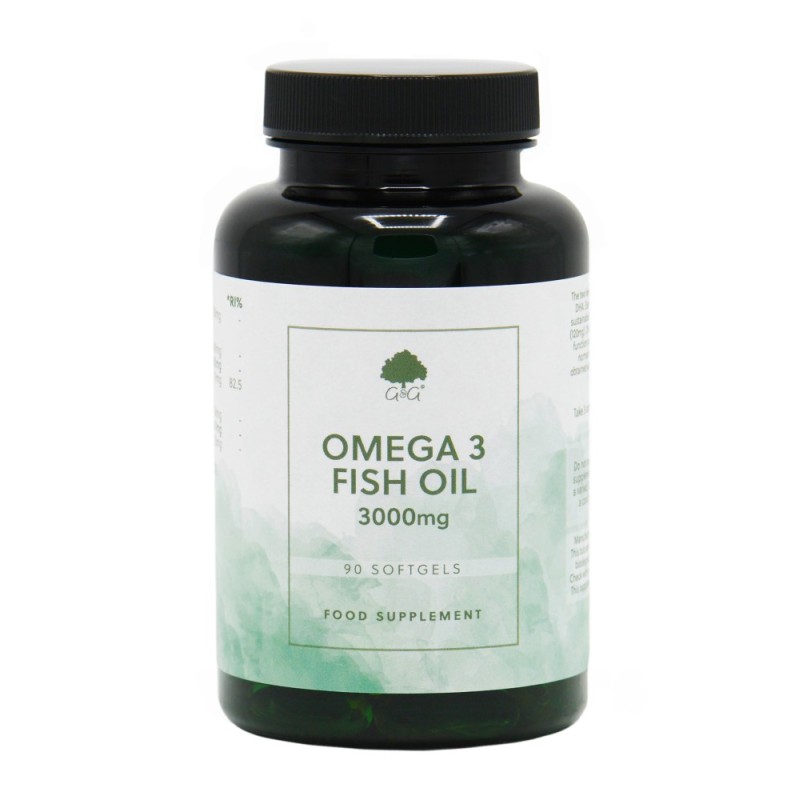  
Omega 3 Fish Oil 3000mg - 90 Softgels
SKU: GA303
Maintenance of normal brain function
Maintenance of normal vision
Normal function of the heart
Maintenance of normal blood pressure
Description
Ingredients:
3 softgels provides:
Ingredients

 
Fish Oil (

FISH

):
3000 mg
EPA
540 mg
DHA
360 mg
Vitamin E (dl-alpha-tocopheyl acetate)
22,35iu (15 mg)

Additional Ingredients:

 

Gelatin, glycine, purified water (softgel)

 
Directions: Take 3 softgels daily or as directed by a healthcare professional.
OUR OMEGA 3 FISH OIL SUPPLEMENT
Omega 3 Fish Oil supplement contains high-quality omega 3 fatty acids, sourced sustainably from Peruvian Anchovies. This ensures that each softgel provides EPA 190mg and DHA 130mg.
Omega 3 three has been found to support brain, vision and heart function as well as useful during pregnancy. 
WHAT IS FISH OIL?
Fish oil is a great source of eicosapentaenoic (EPA) acid and docosahexaenoic acid (DHA). They are both sources of omega 3 fatty acids.
WHAT DOES FISH OIL DO?
EPA/DHA contributes to:
Maintenance of normal brain function
Maintenance of normal vision
Normal function of the heart
Maintenance of normal blood pressure
Maintenance of fasting blood concentrations of triglycerides.
DHA maternal intake contributes to the normal brain and eye development of the foetus and breast fed infants.
Warnings:
Do not exceed stated recommended dose.
A food supplement should not be used as a substitute for a varied and balanced diet & healthy lifestyle.
Store in a fridge, out of the reach and sight of young children.