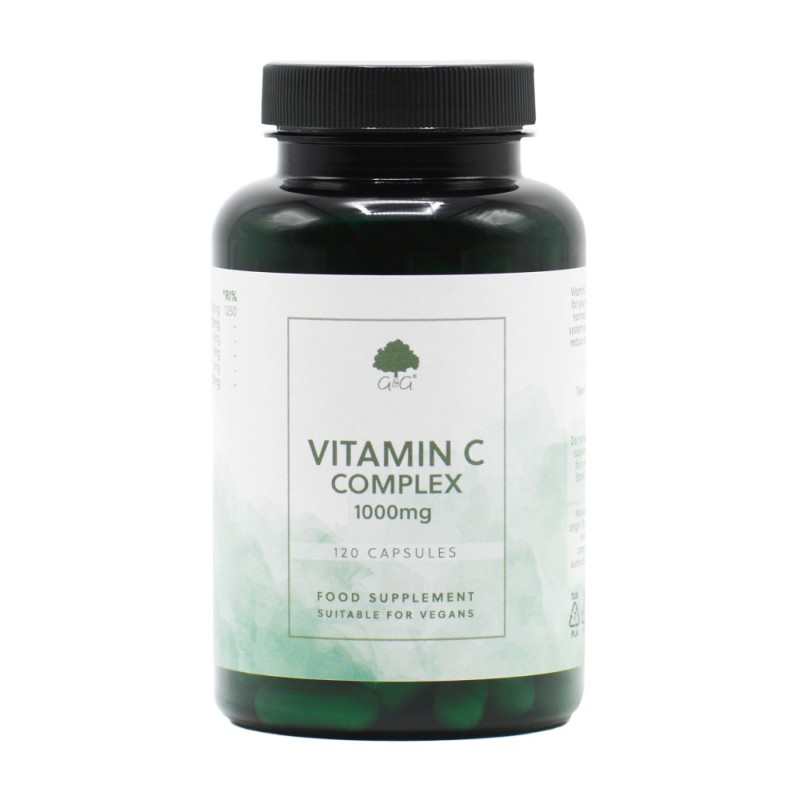  
Vitamin C 1000 mg with Rosehip & Acerola 120 Capsules
SKU: GA058
G&G's Vitamin C is 100% active ingredient in an easy to swallow capsule . Unlike leading brands, we use no fillers, colourants, caking agents or sweeteners in our capsules, meaning you know exactly what you're swallowing.
Description
Supplemental Facts
Serving Size: 1 capsule
| Ingredients | Per Serving |
| --- | --- |
| Vitamin C (Ascorbic Acid) | 1000 mg |
| Calcium (Carbonate) | 986 mcg |
| Magnesium (Oxide) | 1,5 mg |
| Rosehip | 2,5 mg |
| Acerola | 2,5 mg |
 1 to 2 caps daily or as directed by a professional.
Do not exceed the stated dose unless directed by a health care professional.
Vitamin C 1000mg with added Rosehip & Acerola Cherry in packs of 120. Acerola Cherry contains a rich mix of bioflavonoids, which can help your body absorb the Vitamin C.

Vitamin C is required in the synthesis of collagen within the connective tissues, neurotransmitters, steroid hormones, carnitine, conversion of cholesterol to bile acids and enhances iron bioavailability in the human body. Ascorbic acid is a great antioxidant and helps protect the body against pollutants.

Acerola Cherry contains a rich mix of bioflavonoids and anti-oxidants, a food state vitamin C easily absorbed by the human body. Combined with Vitamin C this leads to a much more efficient absorption and utilisation of pure Vitamin C.

Rosehips have been traditionally used as a source of vitamin C. Compared with foods such as oranges there is a much higher concentration of vitamin C - approximately 1,700 mg of Vitamin C in 100g of dried rosehip. Although this is considerably less than the ultimate food state vitamin supplement - Acerola, there are an extensive range of useful nutrients in the rosehips.