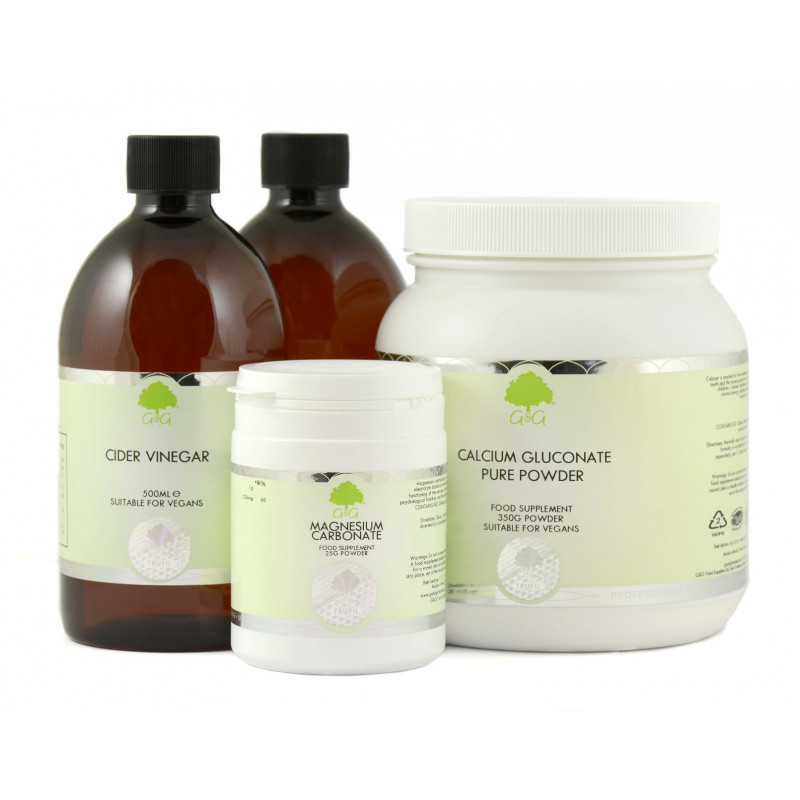  
Cal-Mag Kit (Calcium, Magnesium & Cider Vinegar)
SKU: GA109
The kit contains 350 g of Calcium Gluconate, 20 g of Magnesium Carbonate and 500 ml of Cider Vinegar to make up your own Cal-Mag drink.
Description
Supplemental Facts
10 g provides:
Ingredients
Per Serving
1g Calcium Gluconate provides:
Calcium (gluconate)
provides 1g of total calcium compound weight
89.4 mg
1g Magnesium Carbonate provides:
Magnesium (carbonate)
provides 1g of total magnesium compound weight
226 mg
1 bottle of Apple Cider Vinegar provides:
Apple cider vinegar
500 ml
Directions:
Put one level tablespoon (15ml) of calcium gluconate in a normal-sized glass.
Add 1/2 level teaspoon (2.5ml) of magnesium carbonate.
Add 1 tablespoon (15ml) of cider vinegar (at least 5 percent acidity).
Stir it well.
Add 1/2 glass (about 120ml) of boiling water and stir until all the powder is disolved and the liquid is clear.
Fill the remainder of glass with lukewarm or cold water and cover.

Our Cal-Mag Kit contains everything you need to make a perfect batch of the popular health supplement drink Cal-Mag. The kit provides calcium gluconate powder, magnesium carbonate powder and a bottle of cider vinegar. With these ingredients you can make and manage your own cal-mag supplement drink.
Cal-M is superior to many other calcium and magnesium blends on the market, because it delivers these important minerals as acetates a type of electrolyte compound that is absorbed very well into our cells for use all over the body.
WHY WE INCLUDE APPLE CIDER VINEGAR?
Apple cider vinegar is made from the fermented juice of crushed apples. It contains a naturally occurring compound called acetic acid. When in contact with calcium and magnesium, acetic acid reacts to form the mineral salts calcium acetate and magnesium acetate. This is the reaction that happens when you mix calmag together, ready for delivery into your cells.
WHAT DO YOU GET IN YOUR KIT?

Calcium Gluconate - 350G powder
Calcium gluconate is manufactured by the neutralisation of calcium carbonate. It is on the World Health Organisation's list of Essential Medicines, a list of the most important medication needed in a basic health system. Ideally used as part of a calcium/magnesium blend.

Magnesium Carbonate - 25G powder
Magnesium carbonate is used to relieve acid indigestion like heart burn and other stomach upsets. Ideally used as part of a calcium/magnesium blend.

Cider Vinegar - 1,000ml
Apple cider vinegar with a minimum 5% acetic acid.
WHAT DOES OUR CAL-MAG KIT DO?
Magnesium contributes to normal:
Reduction of tiredness and fatigue
Electrolyte balance
Functioning of the nervous system
Protein synthesis
Muscle function
Energy-yielding metabolism
Bones and teeth
Calcium contributes to normal:
A role in the process of cell division and specialisation
Function of digestive enzymes
Neurotransmission
Blood clotting
Muscle function
Energy-yielding metabolism
Bones and teeth
EXCIPIENT FREE
Our Cal-Mag Kit comes in the purest form possible. This enables us to offer a collection of supplements that do not require any excipients or unnatural fillers. Our Cal-Mag Kit provides nothing but the ingredients needed to create your own calmag formula.
SUITABLE FOR VEGANS
Our Cal-Mag Kit is suitable for vegetarians and vegans.