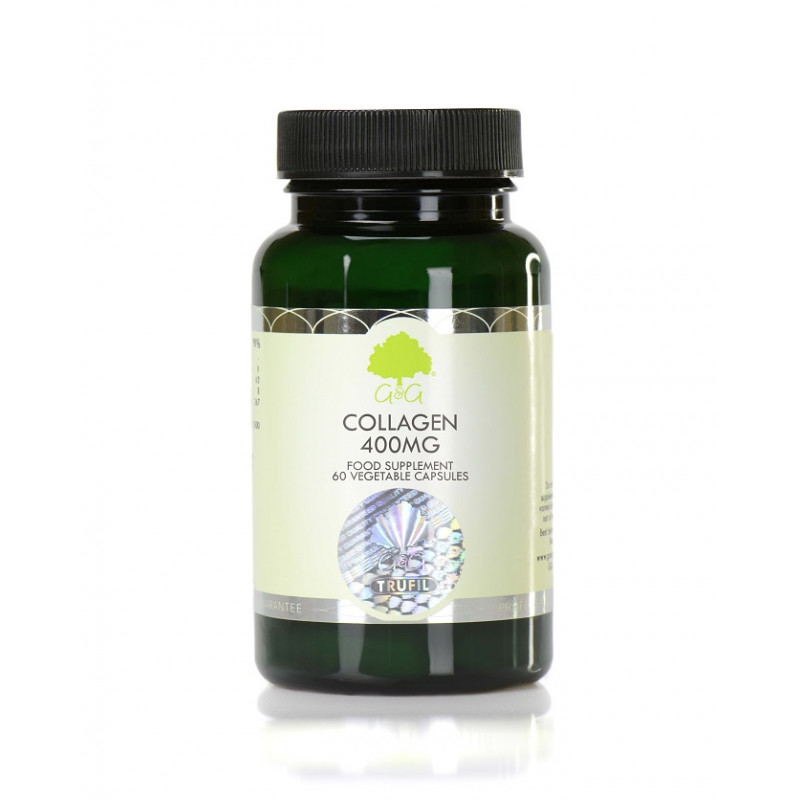  
Collagen 400 mg - 60 Capsules
SKU: GA702
2 month's supply (1-a-day)
Hydrolysed marine collagen
From tilapia fish
Description
Supplemental Facts
Serving Size: 1 capsule
| Ingredients | Per Serving |
| --- | --- |
| Collagen (FISH) | 400 mg |
| Capsule Shell: Vegetable Cellulose  | 100 mg |
Directions: Take 1 capsule daily, or as directed by a healthcare Professional.
Hydrolysed marine collagen - widely recognised as an effective treatment to reduce the appearance of Lines, Wrinkles and other signs of ageing - is now available in a capsule. Taken orally, it avoids the need for regular Collagen injections.
More than a third of the body's protein is Collagen - and it can account for an even higher percentage in particular parts of the body. Collagen makes up 75% of our skin.
Collagen is a complex structural protein that is found in the fibrous tissues within the body, such as tendons, ligaments, cartilage, bone and skin.
OUR COLLAGEN SUPPLEMENT
Our collagen health supplement comes from hydrolysed fish sources. In hydrolysed collagen the collagen bonds have been broken, leaving the essential amino acids intact and ready for digestion.
EXCIPIENT FREE
Our Collagen supplement comes in the form of a vegetable cellulose capsule. This enables us to offer a supplement that does not require excipients, binders or unnatural fillers. A vegetable cellulose capsule is designed specifically to break down naturally within the acid of your stomach, ensuring that the nutrients are absorbed during digestion.