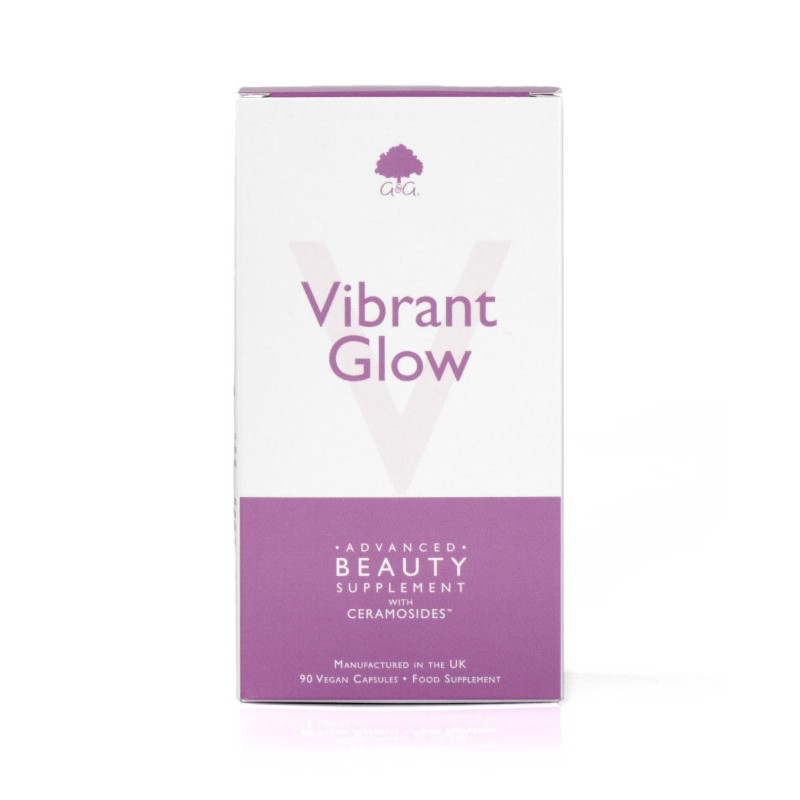  
Vibrant Glow: Advanced Beauty Supplement - 90 Capsules
SKU: GA106
3 month's supply (1-a-day)
Advanced beauty supplement for all skin types and complexions
Contains ceramosides
Description
Supplemental Facts
Ingredients
Per Serving
Vitamin E Natural (400IU)
(D-Alpha Tocopherol Succinate)
89.48mg
 
745.7%
Turmeric Root (Curcuma longa)
60mg
 
 
MSM (methylsulfonylmethane)
may contain: silicon dioxide
60mg
 
 
Grape Seed Extract (95% OPC)
50mg
 
 
Vitamin C (Calcium ascorbate)
40mg
 
50%
Astaxanthin (Haematococcus pluvialis)
astaxanthin extract, maltodextrin
1.33mg
 
 
Alpha Lipoic Acid
33.33mg
 
 
Lycopene (Extract 5% Lycopene)
maltodextrin from corn, lycopene powder
1.67mg
 
 
Ceramosides(TM) (Phtoceramides) (Triticum aestivum)
33.33mg
 
 
Rose Hip (Rosa canina)
30mg
 
 
Kiwifruit Enzyme (Digesten) (Actinidia deliciosa)
contains silicon dioxide
26.67mg
 
 
Horsetail Extract (4:1) (Equisetum arvense)
horsetail extract, maltodextrin
16.67mg
 
 
Zinc (picolinate)
3.33mg     
 
33.3%
Bromelain (1200 GDU/g)
bromelain, maltodextrin
16mg
 
 
Green Tea Extract (Camellia sinensis)
(50% Polyphenols)
Caffeine >=7%
14.67mg
 
 
Lecithin (SOYA)
providing phosphatidyl choline 19.5%
13.64mg
 
 
 
Selenium (L-Selenomethionine)
Di Calcium Phosphate, L Selenomethionine

66.67μg

 
121.2%
Quercetin
13.33mg
 
 
White Willow Back (Salix alba)
9.33mg
 
 
Vitamin B6 (pyridoxine HCl)
8mg
 
1714%
Vitamin D (D3) (800iu)
vitamin D3 oil (lichen extract, fractionated coconut oil,
d alpha tocopherol), arabic gum, corn syrup,
silicon dioxide, sodium ascorbate
20μg
 
1200%
Vitamin B5 (Calcium Pantothenate)
5.33mg
 
88.6%
Manganese (Bisglycinate)
Manganese bisglycinate, citric acid
maltodextrin, silica
666μg
 
33.3%
Vitamin B3 (Nicotinamide)
4mg
 
25%
Black Pepper Extract
(Bioperine)
3.33mg
 
 
Copper (gluconate)
333μg
 
33.3%
Vitamin A (acetate) (111iu)
maltodextrin from corn, gum arabic,
retinol (vitamin A) acetate, sucrose,
vegetable oil, tocopherols, sodium ascorbate,
silicon dioxide
66.67μg
 
 
 
 
 
 
Capsule shell: vegetable cellulose
120mg
 
 
Allergens: see ingredients in BOLD
 
Directions: Take 1 capsule a daily with a meal or as directed by a healthcare profressional.
Suitable for vegetarians and vegans, a
pproved kosher
WHAT IS VIBRANT GLOW?
Vibrant glow is a vegan advanced beauty supplement carefully formulated by experts in the field of natural health. Your skin is the largest organ in your body. Vibrant Glow provides you with a wide range of vitamins, minerals and plant extracts to help your skin be its best self.
WHAT DOES VIBRANT GLOW DO?
Vibrant glow contains Ceramosides. Ceramosides contain concentrated bioactive lipids called phytoceramides, naturally present in the skin to aid with skin hydration and elasticity. Vibrant glow also contains vitamin B3 and zinc to contribute to normal skin, and copper for normal skin pigmentation.
Do not exceed stated recommended dose.

Store in a cool dry place, out of the reach and sight of children.

A food supplement should not be used as a substitute for a varied and balanced diet & healthy lifestyle.